JÖRG & JÖRG from 21st of July – 16th of September
It's going to be colorful again this summer! We present pictures by the artist JÖRG DÖRING (D). His compositions of iconic personalities, comic characters and headlines are refreshing and express pure joie de vivre. JÖRG W. SCHIRMER (D) convinces with his colored bronze sculptures. The greatly altered proportions of the human body force us to change perspective.
We are looking forward to your visit.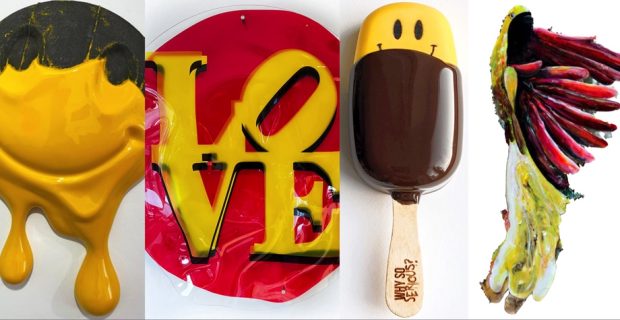 JUST SMILE !

After participating in this year's art KARLSRUHE, we are bringing our artists' artworks to Munich. In keeping with the beginning of summer, the motto of our new exhibition is "Just Smile!". Despite personal and political challenges, you shouldn't lose your smile. Art helps to drive away the worries of everyday life. We present the artist FREDRIK ERICHSEN (D), who we are adding to our artist portfolio as part of this exhibition. He fascinates with his impressive concrete smiley face. In addition, we are showing the new works by PAUL THIERRY (D), PEINTRE X (D) and the Ukrainian artist LOLA LUK (UKR), who makes everyone smile with her ice cream sculptures.
We are looking forward to your visit.
Galerie Hegemann
OUR EXHIBITIONS