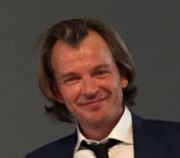 VITA
Born in a forest of millennium oaks just before the eighties, Sylvestre has past most of his childhood climbing trees and observing nature.. and later on surfing waves around the globe. Sylvestre was a sculptor before being born, always with things and tools in his hands and his imagination would do the rest, extremely sensitive, perceptive and a bit shy.
He graduated at the Accademia Belle Arti of Carrara and worked then in various institutional art studios in Pietrasanta where he mastered his techniques of carving marble, especially monumental pieces and eventually created his own studio to make his own pieces. His sculptures are now part of public and private collections in the major cultural capital around the globe such as Paris, London, Rome, Amsterdam, Hong-Kong, Dubai…
The World is energy, Life is energy, and so is Art.
I create sculpture to generate energy in your daily life, either in a Public Space or in your intimate space. I like to compare my works with classical music, as Abstract Art is more delicate to understand, they are movements, like a sonata, a menuetto or a symphony, they are complex and simple at the same time so it really needs time to penetrate your mind and get the emotions from it. It's the opposite of figurative works which could be compare to pop music, where you have an immediate perception of the song with words, so you understand what you hear or what you see right away, but it stops there at the same time.
It's an open source of energy, but for that you also need to plugin with the work and take your time to recharge, and I guess this is not the easiest thing today with the 2.0 generation lifestyle. Everything is to be insta, @ and #… #instabuy #instafood #instamake
Combining the elements of nature into my work, I create a subtile balance between the positivity and the negativity, in a circle of energy so to balancing the beauty of life on earth harmoniously with the massive destructive chaos and sadness of a certain part of humanity.
That, to give a message of white hope for the future.