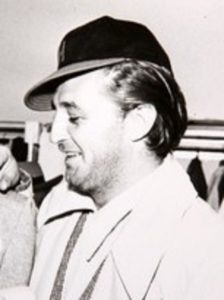 VITA
Frank Worth was born in New York City in 1923. During his senior year he approached the NewYork offices of the International News Service (INS) with some of his photos and was offered a trial position. His first assignment was to photograph actors and actresses as they arrived at Grand Central Station getting off the California Express train. This was his introduction to Hollywood.
Frank was charming, witty and immediately struck up a rapport with those he wasphotographing. As a result, INS sent him to Hollywood as a staff photographer after he graduated in 1940. Frank Worth soon left INS and became a member of the Hollywood Photographers Guild, although he continued to work for INS as a freelancer.
Frank quickly met and became close friends with many top stars, including James Dean, with whom he shared a fascination for sports cars. Frank was invited by Dean to go behind the scenes on the sets of Rebel Without a Cause and Giant . Worth was a regular at many other movie sets and film premieres including The Vikings , Reap the Wild Wind , Magnificent Obsession , How To Marry a Millionaire , and The Seven Year Itch.
Frank Sinatra came to Hollywood a couple of years after Worth and they too became close friends. Through Sinatra, Frank met and became friends with "Rat Pack" regulars Dean Martin and Jerry Lewis. Lewis even had a part in Frank Worth"Ÿs unreleased film, The Silent Treatment (1967), a movie that included many of his friends such as Peter Lawford, Phyllis Diller, Aldo Ray, Barry Sullivan, Pat Carroll, and Jackie Coogan.
Frank Worth captured and retained extensive collections of Marilyn Monroe and James Dean photographs, most of which were never seen. He took many photos of the young actress years before she made the first film that brought her stardom, The Asphalt Jungle.
Worth never released his best photos. Some of his shots were to him as private as his personal life. The remarkable rare and highly valuable collection of negatives that were accumulated over a period of 60 years was found by his estate in Worth's home after his passing in 1999. The negatives reveal a diverse, previously unseen catalog of Frank Worth's Hollywood friends, acquaintances, and sports stars, representing an array of the famous stars from the Golden Age of Hollywood.