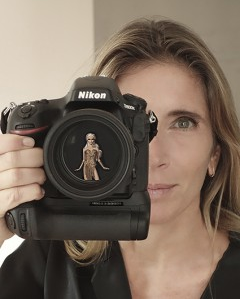 VITA
The unique works of the artist Cécile Plaisance, born in Paris in 1968, deal with aspects of modern femininity, the personal and different perception of religion, what it means to lead a good life and much more. She often chooses a universal symbol as the starting point for her photography: Barbie.
After a successful career in finance and later in the media sector, she decided to follow her passion, photography. She is inspired by icons from the world of fashion and film, which she uses as a projection surface to deal with major social issues.
Beauty and humor are central elements of her work. Plaisance strives to make their admiration accessible to women. She doesn't see her work as part of a gender war. It is an ode to femininity and love, an expression of the need for balance. Every woman should find herself in her works, regardless of origin or religion.
They also find artistic inspiration in the captivating sensuality of Helmut Newton's works. Oliviero Toscani's paintings helped her to be bolder. Ellen von Unwerth, Bettina Rheims, David Lachapelle and Pierre & Gilles also motivated her to start her career.
Today, Cécile Plaisance is represented worldwide, in Paris, New York, Miami, London, Amsterdam, Geneva, Los Angeles, Dubai, Hong Kong, Singapore, Seoul etc. Her works are also shown in museums, public and private collections.